Philips CPAP
Philips is the largest maker of continuous positive airway pressure machines in the world. CPAP machines are used to treat obstructive sleep apnea and may have benefits for other health conditions as well. Side effects are possible and Philips recalled some DreamStation CPAP devices in June 2021.
What Does a CPAP Machine Do?
Health care providers prescribe the Philips CPAP and other brands of machines to help people with sleep apnea breathe better when sleeping. Sleep apnea is a condition where a person stops and starts breathing repeatedly while they sleep.
CPAP devices take air from the room, pressurize it and push it through a tube to a mask a person wears on their face. The pressure settings can be adjusted depending on what each individual needs.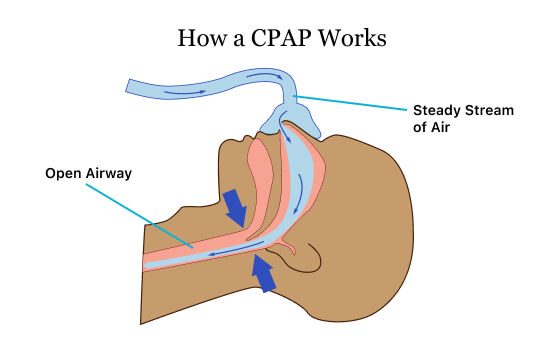 Each brand of CPAP may have slightly different features and designs. Some newer machines are available in smaller travel sizes and come with mobile apps that collect data about device use and sleep quality.
Philips DreamWear CPAP masks are "designed to feel like you're not wearing a mask at all," according to the company's website. They have an open-face construction and a flexible over-the-head frame.
How Does a CPAP Machine Treat Sleep Apnea?
In order to treat sleep apnea, a CPAP machine constantly pushes air into a person's nose through a mask or apparatus strapped to the face. The airflow keeps the uvula, soft palate and tongue from obstructing the airway, allowing a person to breathe better and improve sleep. It also reduces snoring.
Medical providers will program the machine with the correct pressure setting for the patient. It may take a while to get used to sleeping with a CPAP. The pressure can be adjusted depending on how well a patient does.
The goal of CPAP treatment is to improve sleep quality, reduce or eliminate snoring and have less daytime sleepiness, according to the National Heart, Lung and Blood Institute. Patients have to use the machine every time they sleep, including during naps, in order for it to work.
Side Effects
Most CPAP side effects are relatively mild, such as dry mouth and runny nose. Many of these go away after getting used to the machine. Some people have trouble sleeping the first few nights.
If you experience stomach bloating or discomfort, stop using the CPAP and contact a medical professional right away.
CPAP side effects include:
Runny nose
Dry mouth or nose
Nosebleeds
Congestion
Unintentional mask removal during sleep
Face marks, rashes
Feelings of claustrophobia
Eye irritation
Upper respiratory infections
Feeling short of breath
Headaches (rare)
From April 2021 through December 2022, the FDA received more than 98,000 voluntary medical device reports about various side effects connected to PE-PUR foam in Philips respiratory devices, according to an agency update from February 2023. Additionally, 346 related deaths were reported.
Adverse events reported in MDRs include cancer, infections, respiratory problems, chest pain, headache, difficulty breathing, asthma and pneumonia. According to a 2022 study evaluating 2,571 patient injuries associated with CPAP between 2014 and 2021, 4.62% of patients reported cancer development after use, the second most commonly documented issue.
Since these reports are voluntary, the FDA cannot conclusively connect them to the device. But the agency considers them a valuable source of information that can help determine the device's risk to benefit ratio.
Serious Side Effects
Some Philips CPAP machines may cause serious side effects related to damaged polyester-based polyurethane (PE-PUR) sound abatement foam in the device. Philips issued a CPAP recall in June 2021.
Degraded foam may release particles that can be swallowed or inhaled and chemical gases may also travel through airways. Philips reported potential injuries include: Toxic effects, carcinogenic effects, respiratory issues and chemical exposure risk. Cancers linked to Philips CPAP include bladder cancer, stomach cancer, lung cancer and kidney cancer.
Lawsuit Information
Respiratory problems and multiple types of cancer are among the side effects named in Philips CPAP lawsuits.
Philips Recalls CPAP Machines
On June 30, 2021, the U.S. Food and Drug Administration issued a Safety Communication about Philips' voluntary recall of some of its BiPAP, CPAP and ventilator devices. Philips is the largest producer of CPAPs in the world, as many as four million machines could be affected. People who can't stop sleep apnea treatment may have to look for CPAP alternatives, such as oral implants or another brand of CPAP machine.
Philips recalled the devices after it discovered that polyester-based polyurethane (PE-PUR) sound abatement foam used to reduce sound and vibration in the devices may degrade and release particles and gasses into device air pathways. The CPAP maker said ingesting or inhaling foam particles or chemical gasses could lead to toxic and carcinogenic effects. So far, no deaths have been reported.
Shortly after the recall was announced, lawyers began investigating Philips CPAP lawsuits on behalf of patients who used recalled devices and were diagnosed with cancer or other health issues such as respiratory problems.
In September 2021, Philips began replacing PE-PUR foam in some machines with what they said was a safer silicone foam. But in November 2021, the FDA released a Philips CPAP recall update informing the public that the new silicone foam may also pose a potential health risk. The agency also released an inspection report that revealed that Philips knew as far back as 2015 that PE-PUR foam could degrade but didn't inform the public.
In June 2022, Philips released some results of its PE-PUR testing. The company said emissions of toxic chemicals were below established limits and is not anticipated to cause long-term health consequences. Philips also pointed to methods for cleaning a CPAP machine that involve devices that emit ozone gas to sanitize machines. These sanitizing devices are not currently FDA-approved. The FDA has yet to weigh in on these findings.
Please seek the advice of a medical professional before making health care decisions.
Share This Page:
How can we improve this page?
Thank You for Your Feedback
We appreciate your feedback. One of our content team members will be in touch with you soon.
We appreciate your feedback. One of our content team members will be in touch with you soon.
Who Am I Calling?
Calling this number connects you with a Drugwatch representative. We will direct you to one of our trusted legal partners for a free case review.
Drugwatch's trusted legal partners support the organization's mission to keep people safe from dangerous drugs and medical devices. For more information, visit our partners page.