Exactech Replacements
Exactech replacements include joint replacements for knees, hips, shoulders and ankles. Surgeons use these medical devices to replace arthritic or injured joints. Exactech issued a recall for its polyethylene ankle and knee implant inserts because defective packaging could cause early degradation.
About Exactech Replacements
Exactech was founded by orthopedic surgeon Bill Petty, biomedical engineer Gary Miller and organizational culture advocate Bettey Petty in 1985. The Florida-based company focuses on manufacturing joint implants and providing helpful tools for surgeons.
The company's product line includes computer assisted surgery software and instruments as well as biologics intended to accelerate wound healing. But Exactech's main products are shoulder, hip, knee and ankle replacement devices.
Over the years, the company has faced lawsuits related to knowingly selling defective products to government entities and allegedly engaging in illegal consulting agreements with doctors. In October 2022, the Judicial Panel on Multidistrict Litigation consolidated at least 75 lawsuits against orthopedic-device maker Exactech Inc by plaintiffs who allege that their knee or hip implants failed prematurely, requiring revision surgery. Exactech has recalled about 200,000 knee, hip and ankle prosthetics since August 2021.
Exactech Hip Replacement
Exactech hip replacement models include Alteon, Novation and BIOLOXdelta. The company manufactures primary hip replacement and revision surgery hip replacement systems. Some studies have shown that Exactech's hip implants have a satisfactory survival rate of about five years, meaning a lower chance that the implant would have to be replaced at five years.
One 2022 study published in Hip Arthroplasty found that the Novation Element Stem had at least a 92.4% survival rate at five years, but study authors stress that more long-term studies are needed to assess the implant's performance over time.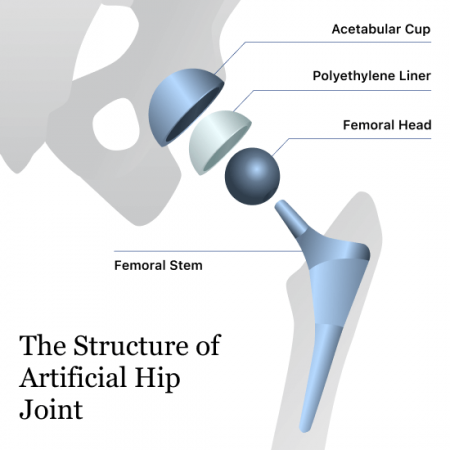 However, some researchers have noted that patients with Exactech Connexion GXL polyethylene liners may have a higher rate of osteolysis, or bone tissue damage. These plastic liners go between the acetabular cup that fits into the hip socket and ball attached to a stem in the thigh. The liners help the ball rotate against the cup, mimicking a natural hip joint.
In June 2021, Exactech sent letters to surgeons informing them that the "Connexion GXL liner exhibits early linear wear and volumetric wear" in a small percentage of patients in patients who have had their implants for 3 to 6 years. Some of these patients suffered osteolysis. Exactech didn't issue a recall for GXL liners, but in 2019 the company began to phase them out of the U.S. market in favor of its new Vitamin E XLE liner.
Exactech Knee Replacement
Exactech knee replacement models include Truliant and Optetrak. One 2021 study published in The Knee found that Optetrak Logic and Truliant single option knee implants improved the fit of the femoral component in Asian patients over older designs from other companies such as Anthem, Attune and Persona.
The company has also improved its Optetrak Logic knee design which resulted in a lower rate of revision surgery and patients complaining of pain. But the new design had a slightly higher rate of revision surgery for osteolysis, according to a 2020 study published in HSS Journal: The Musculoskeletal Journal of Hospital for Special Surgery.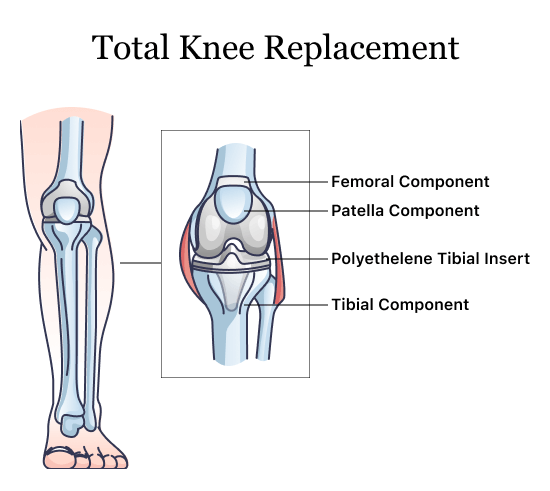 However, a 2021 study published in the Journal of Knee Surgery found the Optetrak Logic posterior-stabilized (PS) total knee arthroplasty (TKA) femoral component was associated with loosening in less than five years compared to other brands. Authors said the "earlier failure rate with this implant is of concern."
In August 2021, Exactech initiated a recall for all its ultra-high molecular weight polyethylene inserts in knee replacements. These inserts function as the new cartilage between the artificial joints. The recalled inserts were packaged in out-of-specification bags that could allow oxygen to get to the insert and cause them to degrade and lead to early implant failure, according to Exactech's recall February 2022 updated recall letter.
Exactech Ankle Replacement
The Vantage Total Ankle System and Vantage PSI are Exactech's main ankle replacement products. They are designed to mimic a patient's natural anatomy. In one 2021 study published in the Journal of Clinical Medicine, researchers found the Vantage Ankle System design reduced prosthesis strain and failure.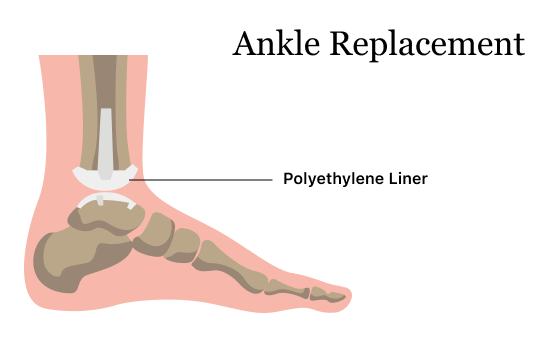 In August 2021, Exactech issued a recall for the polyethylene liner for all ankle replacements and the recall was later updated in February 2022. The recalled polyethylene plastic insert mimics cartilage in the ankle and fits between the talar component and tibial component.
This ankle liner recall coincides with the recall for liners also used in knee replacements and is also because of faulty packaging that may allow liners to degrade. Not all patients may have problems with their devices, and Exactech doesn't recommend replacing ankle devices in people who aren't having issues with their implants.
Types of Liners vs Inserts
Some surgeons use the terms "liner" and "insert" interchangeably. These terms both refer to plastic parts made of polyethylene that act like cartilage in joint implants.
However, the term "liner" is most associated with hip implants. Liners fit into acetabular cups to provide a cushion between the cup and femoral head (or ball). "Insert" refers to the flat piece of polyethylene plastic that provides the cartilage replacement in ankle or knee implants.
In knee implant surgery, inserts may be fixed to the tibial implant. This type of prosthesis is called a fixed-bearing prosthesis. In contrast, mobile-bearing implants have an insert that can move around in the tibial tray. In theory, this allows for more range of motion.
Lawsuit Information
Some recalled Exactech hip, knee, and ankle replacements have caused complications in patients, leading to revision surgery. Learn more about the lawsuits associated with these recalls.
Exactech Recalls
The August 2021/February 2022 Exactech recall applies to knee and ankle replacements inserts manufactured since 2004. Exactech has not recalled its Connexion GXL acetabular liner used in hip implants. Instead, it has phased out these liners and is now using its Vitamin E XLE hip liners.
In March 2023, FDA released a Safety Communication reminding medical providers and the public that many of Exactech's hip, ankle and knee replacement devices manufactured between 2004 and August 2021 we packaged in defective packaging. The defective bags could cause these devices to degrade early, leading to early revision surgery.
If you might have a recalled Exactech implant:
Check your implant's ankle or knee implant's serial number on Exactech's recall page. Typically, this serial number will be in your medical records. If you aren't sure where it is, contact the surgeon who implanted your device.
If you are having problems such as pain, swelling or difficulty moving the joint, contact your doctor right away.
Talk to your surgeon if you have a recalled implant to discuss plans for monitoring your implant even if you aren't experiencing problems.
Your surgeon may call you if you have a recalled implant, and they may request you come in for a follow up appointment even if you aren't having problems. Osteolysis might not present with symptoms.
Connexion GXL hip liners are not recalled, just phased out. But if you have an Exactech hip implant and are having problems, contact your surgeon. They may recommend a treatment program or discuss plans for monitoring your device.
Exactech recommends contacting them to file a claim if you have a recalled implant and your doctor contacts you for a follow up. They will address recall-related out-of-pocket expenses.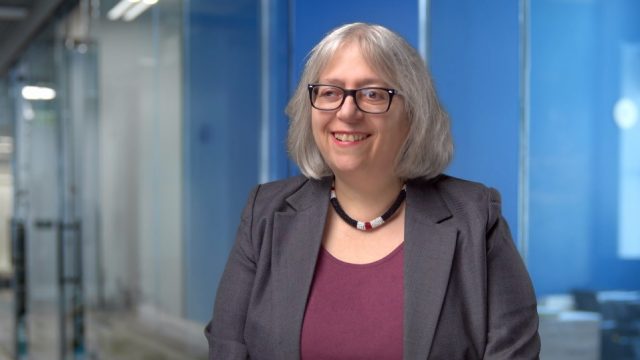 Some people have chosen to file Exactech lawsuits for any expenses incurred, additional surgeries and any pain and suffering related their implant. If you are interested in filing a lawsuit, speak to a product liability lawyer before contacting Exactech. The attorney will advise you on how to handle any potential claims
What Are Revision Surgeries?
Revision surgeries are additional surgeries doctors perform to correct joint replacement problems. Doctors typically recommend these when an implant fails or is causing symptoms such as pain, decreased mobility, bone and tissue death or infection.
Implant failure may occur from a defective implant or with time. Most implants last between 15 to 20 years in 85% to 90% of patients, according to Dr. Amar S. Ranawat of the Hospital for Special Surgery.
These surgeries are more difficult to perform than primary joint replacements, and they require planning and special implants. They take longer to perform and may have more complication risks. Some patients require more than one revision surgery.
According to data gathered from registries in Australia and the United Kingdom, the Exactech Optetrak Knee Replacement System had significantly increased revision rates, compared to other brands. New Zealand's registry found a greater than two-fold increased revision rate. Many of reasons for revision were associated with polyethylene wear.
Please seek the advice of a medical professional before making health care decisions.
Share This Page:
How can we improve this page?
Thank You for Your Feedback
We appreciate your feedback. One of our content team members will be in touch with you soon.
We appreciate your feedback. One of our content team members will be in touch with you soon.
Who Am I Calling?
Calling this number connects you with a Drugwatch representative. We will direct you to one of our trusted legal partners for a free case review.
Drugwatch's trusted legal partners support the organization's mission to keep people safe from dangerous drugs and medical devices. For more information, visit our partners page.