Elmiron Lawsuits
Elmiron lawsuits claim people suffered serious vision damage after taking the drug. As of September 2023, 1,915 Elmiron lawsuits were pending in a federal MDL. The Elmiron bellwether trials are currently on hold while Janssen, Elmiron's manufacturer, tries to settle large groups of Elmiron lawsuits.
This is an active lawsuit
See If You Qualify for an Elmiron Lawsuit
If you developed maculopathy or other serious vision problems after using Elmiron, you may be entitled to compensation. Get a free case review today.
A+

BBB Rating

4.9 Star

Google Reviews
A+

BBB Rating

4.9 Star

Google Reviews
We value your privacy.
By clicking REVIEW MY CASE
, you agree to our
privacy policy
and
disclaimer
. After submitting, you will be contacted by one or more of Drugwatch's
trusted legal partners
(including autodialed and prerecorded calls or text/SMS messages). Msg. and data rates apply. Your consent to text messaging is not required for a case review and you may opt out of text messages at any time by texting STOP. This is legal advertising.
Latest Elmiron Lawsuit Updates
So far there have been no Elmiron lawsuit trials in 2023. The first bellwether trial in the Elmiron multidistrict litigation in New Jersey was scheduled for January 2023 and was later moved to March 27, 2023.
Recent Elmiron lawsuit updates include:
August 2023

As of August 18, 2023, there are a total of 1,924 Elmiron lawsuits pending and a total of 1,962 lawsuits filed.

July 2023:

Only three new lawsuits were added to the Elmiron MDL this month, bringing the total number of pending Elmiron lawsuits to 1,926.

June 2023:

As of June 15, 2023, 1,923 Elmiron cases were pending in the federal MDL. A total of 1,955 lawsuits were originally filed.

May 2023:

There are now 1,891 cases in the federal MDL and dozens more in state courts. Lawyers are still speculating about a potential global Elmiron settlement.

March 2023:

The first bellwether trial is scheduled to start at the end of the month. Some lawyers think that Janssen could settle this case before trial. There are now 1,879 cases in the federal MDL and dozens more in state courts.

January 2023:

The first bellwether trial was originally scheduled to begin this month but was pushed to March 2023.

October 2022:

Judge Martinotti reschedules the first bellwether trial, Maria Windham v. Janssen Pharmaceuticals, Inc., et al, 20-cv-14670, to March 27, 2023. There hasn't been a ruling on the other bellwethers, but these dates have likely moved down to accommodate the rescheduling of the first trial.

September 2022:

There are now 1,774 cases pending in the Elmiron MDL. The judge has scheduled the first bellwether trial in the Elmiron MDL for January 2023. A second trial will be in March 2023 and a third will follow in May 2023 unless the cases settle before then.

July 13, 2022:

Judge Brian Martinotti approved 14 plaintiffs' attorneys for the Plaintiffs' Steering Committee — a group of attorneys who oversee and coordinate the litigation for the plaintiffs in the MDL.

June 29, 2022:

Judge Martinotti ruled Maria Windham's case will remain the first bellwether case and the trial will be in January 2023. The next case management conference is July 13, 2022. Parties submitted Science Day recordings to present the science of Elmiron and vision loss for the court. A date to view the presentations has yet to be decided.

June 15, 2022:

As of June 15, there were 1,360 pending cases in New Jersey federal court.
The first studies linking Elmiron to pigmentary maculopathy were published in 2018. In 2020, Janssen updated the label to include a warning for "changes in the retina of the eye (pigmentary maculopathy)."
In 2020, shortly after the warning was added to the label, the first Elmiron lawsuits were filed.
Why Are Elmiron Lawsuits Being Filed?
Elmiron lawsuits are being filed against Janssen Pharmaceuticals by plaintiffs who suffered vision problems that could lead to blindness, including maculopathy.
Plaintiffs claim Elmiron, a medication used to treat interstitial cystitis, caused their vision damage and that it is a dangerously defective drug. According to lawsuits, Janssen withheld adverse event reports from the public, medical community and the U.S. Food and Drug Administration.
People who filed lawsuits are demanding that Janssen pay compensation for permanent vision injuries.
Elmiron Patients File Suit
People began filing lawsuits against Janssen in 2020. Three of these early lawsuits belonged to Jeanette Milburn, Valarie Hull and Kimberly Pelczar.
The three women claimed long-term Elmiron use caused them to develop loss of night vision, pigmentary maculopathy, vision degradation, retinal injury and retinal hemorrhage. They claimed Elmiron was defective and that Janssen failed to warn them and their doctors of the risk of permanent vision damage.
In the latest Elmiron lawsuit 2023 court update, Janssen is facing 1,879 cases in federal court as of March 16, 2023.
Elmiron Lawsuit Settlement Amounts
So far, there haven't been any Elmiron lawsuit settlements. Some lawyers estimate Elmiron settlement amounts could be as much as hundreds of thousands. Because there have been no trials, jury verdicts or global Elmiron settlement offers, it's difficult to determine what Elmiron lawsuit settlement amounts will be. Verdicts from bellwether trials typically provide a benchmark for case value, and the first Elmiron bellwether will be in March 2023.
If juries award high verdict amounts to plaintiffs, it could also encourage a global settlement. If Janssen offers a settlement, factors such as severity of injuries and financial damages will determine what each individual plaintiff's settlement amount will be.
Complex Elmiron litigation may take a few years to resolve. Even after a settlement is reached, disbursing settlement funds to hundreds of people will take time.
Am I Eligible to File an Elmiron Lawsuit?
If you have a confirmed diagnosis of eye issues after taking Elmiron for at least two years, you may be eligible to file an Elmiron lawsuit. Lawyers have additional criteria that could affect your chances of qualifying.
You may qualify to file an Elmiron lawsuit if you:
Took Elmiron for at least two years
Sought medical treatment for vision issues
Were diagnosed with vision problems, such as pigmentary maculopathy, retinal maculopathy or macular degeneration, after taking Elmiron
Suffered vision changes such as blurred vision, difficulty reading, distorted vision, eye pain, issues adjusting to darkness, vision disturbances, or vision loss after taking Elmiron
Were diagnosed with vision problems or started having vision problems while taking the medication or within one year of stopping the medication
Started having vision problems on or after Jan. 1, 2010
Only a lawyer can tell you for sure if you qualify to file an Elmiron lawsuit. If you aren't sure if you fit the criteria above, make sure to contact an Elmiron lawyer. With just a few questions they can tell you if you qualify, and the consultation is free.
Elmiron Linked to Maculopathy
Several studies have linked Elmiron, the brand name of pentosan polysulfate sodium (PPS), to a unique type of maculopathy called pigmentary maculopathy.
Researchers have said this type of maculopathy only occurs in Elmiron users. Maculopathy is a progressive disease that could lead to blindness, and there is no cure.
"In 2018, eye physicians published the first report of retinal damage associated with Elmiron use," Elmiron lawyer Trent B. Miracle told Drugwatch. "Since then, the medical literature regarding eye damage and vision loss associated with Elmiron continues to grow."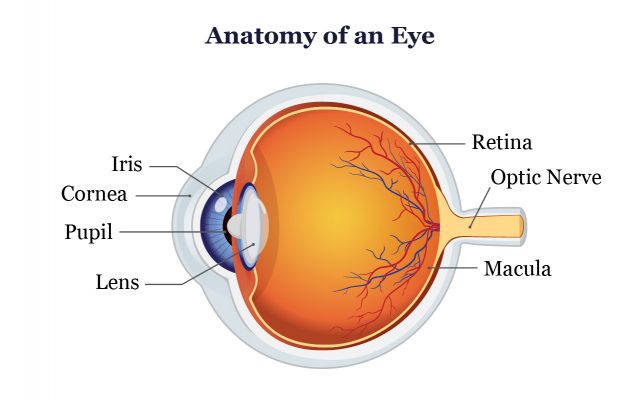 The most common visual symptoms reported in studies were difficulty reading and difficulty adapting to dim lighting. Researchers found that PPS users who took more of the drug over a longer period of time had the worst eye damage and that damage could continue progressing even after a patient stopped taking the medicine.
In a study from April 2022 published in Asia-Pacific Journal of Ophthalmology, researchers said Elmiron maculopathy is often misdiagnosed as another eye problem. According to a March 2022 study, people who used Elmiron for more than three years had a 9.5-fold greater risk of maculopathy.
Have you suffered vision damage related to Elmiron usage?
Why File an Elmiron Lawsuit?
Filing an Elmiron lawsuit may help those suffering permanent vision problems get compensation for medical bills, pain and suffering, lost wages, loss of quality of life and future care.
Studies have linked Elmiron to permanent vision damage for years, and yet Jannsen didn't warn the public of the risk until many years later. Some people may file lawsuits to bring awareness to Elmiron's side effects and prevent others from suffering permanent vision loss.
Elmiron lawsuits may hold Janssen accountable for negligence. When people injured by Elmiron go to trial, they may be awarded punitive damages. Juries award punitive damages to punish defendants for grossly negligent or malicious behavior and to discourage further negligent behavior.
Will There Be an Elmiron Recall?
Elmiron has not been recalled despite studies linking long-term use of the interstitial cystitis drug to potentially permanent vision damage.
The drug has been on the market since 1996 and is still the only oral treatment available for the condition. Janssen didn't warn about the risk of retinal pigmentary maculopathy until June 2020.
The FDA published the new label with the maculopathy warning but has not issued a statement or safety communication about it. So far, the agency hasn't asked Janssen to recall the drug and the drugmaker hasn't said it plans to issue a recall.
Download Your Free Elmiron Guide
Learn more about Elmiron and how to take legal action if you developed vision problems after taking the drug.
Get Your Free Guide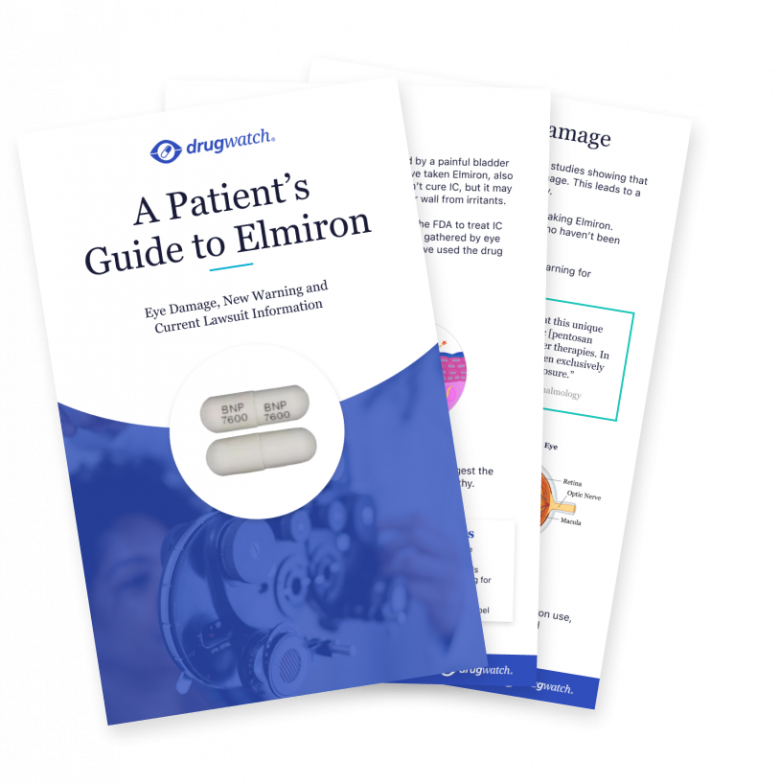 Questions Your Elmiron Lawyer May Ask
When you contact an Elmiron lawyer about your potential Elmiron vision damage case, they may ask you questions about your experience with the drug. Make sure you answer questions with as much detail as possible.
Please seek the advice of a medical professional before making health care decisions.
Share This Page:
How can we improve this page?
Thank You for Your Feedback
We appreciate your feedback. One of our content team members will be in touch with you soon.
We appreciate your feedback. One of our content team members will be in touch with you soon.
Who Am I Calling?
Calling this number connects you with a Drugwatch representative. We will direct you to one of our trusted legal partners for a free case review.
Drugwatch's trusted legal partners support the organization's mission to keep people safe from dangerous drugs and medical devices. For more information, visit our partners page.