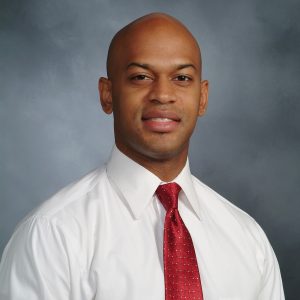 Carl V. Crawford, M.D.
Gastroenterologist/Hepatologist
Last Modified: October 13, 2020
Dr. Carl V. Crawford is an assistant professor of clinical medicine and attending physician at New York Presbyterian-Weill Cornell Medicine in the Division of Gastroenterology and Hepatology.   
He completed his undergraduate studies at Georgetown University, graduating with a degree in Biology and minor in Theology.  He received his medical degree from the Yale University School of Medicine while completing a concurrent Howard Hughes Medical Institute Research Fellowship in parasitology.  He attended Weill Cornell for his medicine residency training while receiving a T-32 Training Award studying phytochemicals in the prevention of solid tumors.
Dr. Crawford's gastroenterology fellowship was also at Weill Cornell, and he remained on as faculty, serving as a GI specialist for the critically ill with an emphasis on the pre-heart transplant and bone marrow transplant population. He is the current program director for the Gastroenterology and Hepatology Fellowship at Weill Cornell and has been the recipient of the Louis and Rachel Rudin Foundation Grant for the Study of Enteric Pathogens, where he has pursued his academic interests in teaching, evaluation and management of enteric infections especially C. difficile infection (CDI). 
He created the fecal microbiota transfer (FMT) infrastructure at Weill Cornell, where he is currently involved in FMT for recurrent and refractory cases for CDI but also studies its role in horizontal transfer of multi-drug resistance genes in gut bacteria and its role in conditions such as IBD and neurologic disorders. He is also involved in a number of C. difficile-related clinical trials and original outcomes research, which he conducts with his trainees.
Dr. Crawford is a member of the American College of Gastroenterology, the American Gastroenterological Association, and the American and New York Society of Gastrointestinal Endoscopy.
About Drugwatch's Experts
Drugwatch's experts are authorities in their fields. Their personal experiences and professional expertise make them uniquely qualified to review our content for accuracy and verify that the information you read here is trustworthy, comprehensive and consistent with the latest evidence-based research.