Elmiron
Elmiron, or pentosan polysulfate sodium, is a weak blood thinner used to treat discomfort or bladder pain associated with interstitial cystitis, a chronic condition that causes bladder pain and pressure. The most common side effects of Elmiron are hair loss, diarrhea and nausea. Headache, abdominal pain and upset stomach may also occur.
What Is Elmiron?
Elmiron is the only oral drug approved to treat bladder pain and discomfort associated with interstitial cystitis, or IC, and it's not available as a generic. Since its release, it's estimated that hundreds of thousands of people have used the drug, usually long-term. Most people who use the drug are women.
The majority of Elmiron side effects are mild, but new reports suggest the drug could be toxic to the retina, the tissue behind the eye that senses light.
How Pentosan Polysulfate Sodium Works
Researchers don't know exactly how pentosan polysulfate sodium works, but they believe it works by protecting the bladder from irritants in urine. Elmiron doesn't work like other pain relievers such as Tylenol or nonsteroidal anti-inflammatory drugs like ibuprofen, and it doesn't work by stopping inflammation.
In people with IC, the bladder wall's protective lining is damaged. This allows irritating substances in urine to cause inflammation in the bladder wall. Elmiron creates a barrier on the bladder wall to prevent irritation.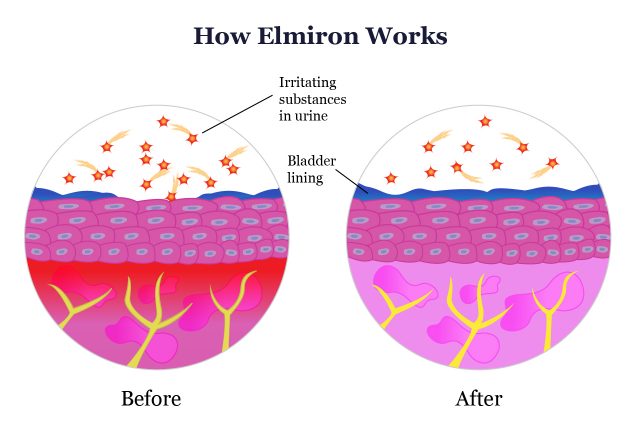 Download Your Free Elmiron Guide
Learn more about Elmiron and how to take legal action if you developed vision problems after taking the drug.
Get Your Free Guide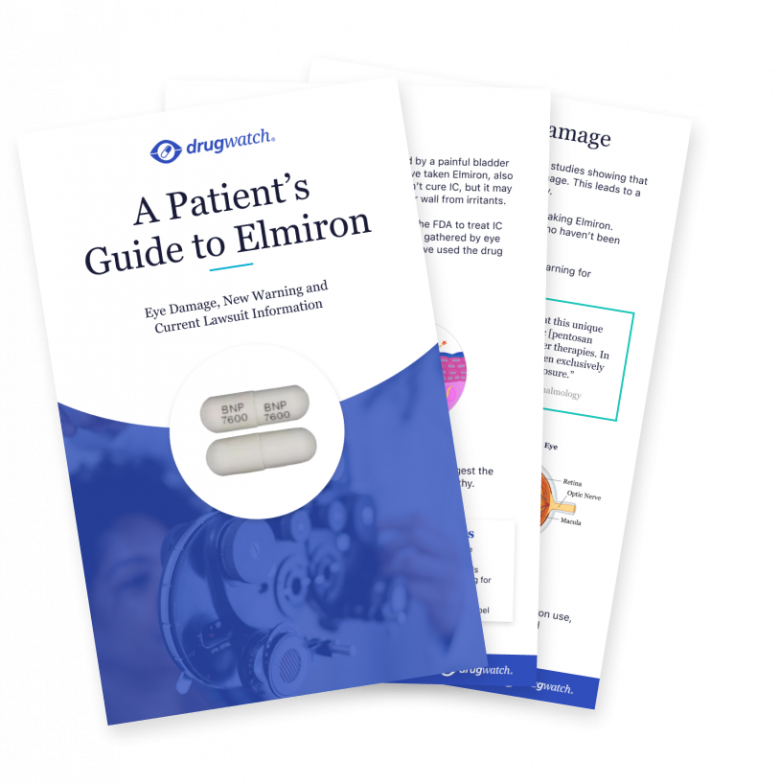 Side Effects
Elmiron has a few common side effects, and most of them are mild. Because it's a mild blood thinner, it may also cause bruising. Call your doctor right away if these side effects persist or bother you or if you have blood in your stool.
Common side effects include:
Abnormal liver function tests
Blood in the stool
Bruising
Diarrhea
Dizziness
Hair loss
Headache
Nausea
Rash
Upset stomach
Some people reported pigmentary changes in the retina, also called pigmentary maculopathy, with long-term use of Elmiron.
A 2022 review of the literature confirms the consensus around this disease: higher cumulative doses of pentosan cause maculopathy with symptoms consistent with rod dysfunction, similar to age-related macular degeneration.
Researchers don't know what causes it, but symptoms include problems reading, blurred vision and difficulty adjusting to low lighting. Call your doctor if you notice changes in your vision while taking this medicine.
Dosage, Instructions and Precautions
The recommended daily dose for Elmiron is one 100 mg capsule by mouth three times a day for a total of 300 mg daily. The capsule should be taken with water at least one hour before meals or two hours after meals.
After three months of taking Elmiron, the patient should contact their health care provider for an evaluation of how well the drug is working. If there is no improvement in IC symptoms and there are no serious side effects, the health care provider may recommend another three months of treatment.
Precautions
Elmiron is a weak anticoagulant. This means it works like a blood thinner and makes it harder for blood to clot. Its strength is about one-fifteenth the strength of heparin. Rectal hemorrhage, gum hemorrhage and bruising have been reported. Elmiron is contraindicated for patients who are allergic to pentosan polysulfate sodium.
Tell your doctor if you have a history of eye disorders, blood vessel disorders (such as aneurysm), bleeding disorders (such as hemophilia, thrombocytopenia), liver disease, stomach/intestinal disorders (such as stomach ulcers, polyps, diverticula) or spleen disorders.
Pigmentary Maculopathy and Other Vision Problems
Pigmentary maculopathy has been reported with long-term use of Elmiron. These changes in the retina can cause vision loss or damage.
Most of these changes occurred after patients used Elmiron for three years or longer, according to the drug's label. But some people had eye damage after a shorter duration of use.
Tell your primary care physician and eye doctor if you have a history of retina problems or if you experience slower adjustment to reduced or low light, blurred vision or difficulty reading.
Bleeding Disorders
Patients about to have surgery, who have symptoms of bleeding or who are taking other drugs that may increase bleeding — blood thinners, aspirin, or nonsteroidal anti-inflammatory drugs — should tell their health care providers right away.
Elevated Liver Enzymes
Some patients experienced mildly elevated liver enzymes that occurred three to 12 months after starting treatment. Researchers haven't tested Elmiron in people with liver insufficiency, so those with liver problems should use the drug with caution.
Pregnancy and Breastfeeding
Elmiron should be used during pregnancy only if clearly needed, according to the drug's label.
Reproduction studies in mice and rats did not reveal evidence of impaired fertility or harm to the fetus from Elmiron. However, adequate and well-controlled studies have not been performed in pregnant women, and animal studies are not always predictive of human response.
Nursing women should also exercise caution. Many drugs are excreted in human milk, and it is not known whether Elmiron can pass through breast milk.
Drug Interactions
Elmiron's medication insert doesn't list any drug interactions, but patients should tell their health care provider about all drugs, vitamins and any herbal supplements they are taking — especially any medication that may increase bleeding risk.
Lawsuit Information
Lawsuits claim that people who took Elmiron experienced vision problems including blurred vision, maculopathy, retinopathy and vision impairment.
Does Elmiron Cure Interstitial Cystitis?
Elmiron doesn't cure IC, but it does provide some relief from symptoms. Interstitial cystitis, or bladder pain syndrome, is a chronic condition that causes painful symptoms in the bladder. IC is common and affects 1 million to 4 million men and 3 million to 8 million women in the United States, according to the National Institute of Diabetes and Digestive and Kidney Diseases. Currently, there is no cure.
Researchers don't know what causes IC, but certain activities, food and drinks may trigger symptoms. For example, people reported symptom flares with stress, intercourse, holding their urine or wearing tight undergarments.
Symptoms of IC include:
Pressure, mild discomfort or tenderness in the bladder, lower abdomen or pelvic area
Urinary urgency several times a day
Waking up several times at night to urinate
Burning sensation or pain
Urinating more often
Pain that gets worse until bladder is emptied
Pelvic floor muscle pain
Pain during or after sexual intercourse
How Well Does Elmiron Work?
Elmiron's manufacturers tested the drug in two clinical trials with 2,627 patients. Of these trial participants, 2,343 were women, 262 were men and 22 were unknown. After three months in the second trial, 52% of the patients, or 1,307, had dropped out or were ineligible for analysis, according to the medication insert.
The results of these studies showed that Elmiron relieved pain in many patients. A majority of patients who had a response demonstrated pain relief by three months; however, a small percentage of patients took up to six months to demonstrate pain relief.
But another study done on a smaller number of patients by G.R. Sant and colleagues published in The Journal of Urology found that oral pentosan polysulfate sodium didn't provide much benefit to the majority of IC patients.
Lawsuits for Eye Damage
Elmiron's medication insert didn't list any warnings about eye damage or an increased risk of eye disease until Janssen added a warning about pigmentary maculopathy in June 2020, according to lawsuits.
One of the first case reports appeared in The Journal of Urology in 2018. Dr. William A. Pearce and colleagues wrote that long-term use of the drug led to "injury to the retina and the underlying retinal pigment epithelium," according to the IC Network.
Since that report, additional studies have been done to determine whether this is a true effect of the drug. Results have been mixed; however, there is suggestion that long-term use of Elmiron can cause eye damage such as pigmentary maculopathy, which may be misdiagnosed as macular degeneration. Canadian researcher Derrick Wang and his colleagues recommend all patients have a thorough eye examination before starting Elmiron and once a year after that to check for any changes.
In 2019, Drs. Rachel M. Huckfeldt and Demetrios G. Vavvas published a case report in Ophthalmic Surgery, Lasers and Imaging Retina of a patient whose pentosan polysulfate sodium-related maculopathy continued to get worse six years after stopping the drug.
Lawyers are currently filing Elmiron lawsuits on behalf of people who took the drug and experienced vision problems that include blurred vision, maculopathy, retinopathy and vision impairment.
Please seek the advice of a medical professional before making health care decisions.
Share This Page:
How can we improve this page?
Thank You for Your Feedback
We appreciate your feedback. One of our content team members will be in touch with you soon.
We appreciate your feedback. One of our content team members will be in touch with you soon.
Who Am I Calling?
Calling this number connects you with a Drugwatch representative. We will direct you to one of our trusted legal partners for a free case review.
Drugwatch's trusted legal partners support the organization's mission to keep people safe from dangerous drugs and medical devices. For more information, visit our partners page.